Tips on How to Introduce Yourself in a Job Interview
December 31, 2022
2023-11-07 20:05
Tips on How to Introduce Yourself in a Job Interview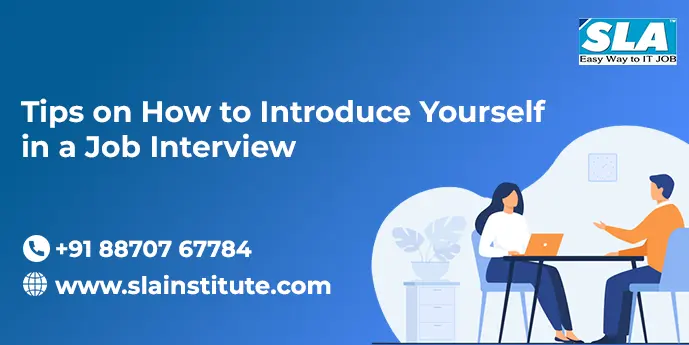 Tips on How to Introduce Yourself in a Job Interview
As a candidate, you could think you have a leg up on the interviewer if they ask you to "Tell me about yourself." It's a good thing you can, too, since it is likely to be the starting point of any kind of interview, from the initial phone screening process to the interview with your potential manager to the final round with the CEO.
However, it can be difficult and nerve-wracking to answer this question in the setting of a job interview. However, you can and should get ready ahead of time to make the most of this typical introduction prompt and ace the interview.
Interviewers often begin with, "Tell me about yourself," to get to know a candidate on a more personal level before moving on to questions that are more pertinent to the job and resume. As the saying goes, "first impressions are often the last impressions," so if you can wow the interviewer right away by giving a strong introduction or by providing thoughtful answers to standard HR interview questions, you'll be ahead of the game. This article provides an all-inclusive guide to what you should highlight in your interview opening.
How to Introduce Yourself in a Job Interview
As soon as you enter the interview room, your mind begins racing with questions and responses you could formulate in the allotted time. However, we frequently overlook the significance of the interviewer's initial question about our introduction. Relax for a moment and take notes on how to nail your introduction.
When first meeting someone, it's natural to make judgments based on how they seem. What you wear to an interview says something about you to the people you'll be meeting. It's important to investigate the corporate culture and find out what the dress code is like before going in for an interview. The interview attire for a tech startup is likely to be more casual than that of a financial consultant. Don't hesitate to ask your recruiter or a worker in advance if you have any questions. Doing so demonstrates that you've put in the time and effort to create a positive first impression.  Some advice is as follows:
Do your best to maintain attention on yourself. Dress conservatively and avoid flashy accessories or busy patterns if you want your interviewers to focus on what you have to say. Enjoy your relaxing time. Make sure you feel confident and comfortable in what you're wearing before you leave the house.
Once you've nailed the presentation, it's time to practice your opening remarks. You should feel the same level of assurance when making a verbal introduction, therefore use the same strategies when starting a conversation with a new person. Say your name proudly to set a firm tone. Don't be timid about making yourself heard; you don't want people to have to strain to make out your name or have to ask for it again. A loud voice conveys assurance, enthusiasm for the opportunity, and a desire to be mindful of others' time.
Get Started By Saying Greetings To The Interviewer
An interview's first impression is formed through meetings and greetings. Interviewers can tell a lot about a candidate's self-assurance level in the first few minutes of a meeting. Start by smiling and offering to shake the interviewer's hand. Simply state your identity and interests. A simple piece about your family will do. Keep your body at peace and your mind at ease to radiate an image of self-assurance at all times. Don't ever stop looking them in the eye and nodding your head at the appropriate times. The interview's introduction phase can now begin.
Specify your academic accomplishments and awards
After you have introduced yourself and given some background information, you should talk briefly about your academic background with the interviewer. You should include comprehensive facts about your academic background, even though you will have included this information in your CV. Always tell the truth when discussing your accomplishments, and avoid coming out as arrogant.
Explain Your Work Background in Detail (if any)
Candidates with work experience should emphasize their accomplishments and lessons learned from their past positions. Describe the workshops and internships you've participated in. If you're being evaluated for a job, your education and employment history are two of the most important aspects of your introduction to the interviewer. When compared to new hires, however, your academic credentials and ECA experience are a major plus.
Tell About Your Interests And Hobbies
Do not hesitate to adopt a casual tone in the conversation. Afterward, talk about your passions and what really fascinates you, both in your work and personal life. Keep the interview's formality in mind and avoid slipping too far into conversational ease.
Get Ready To Answer Some Follow-Up Questions
The interviewer will likely ask you some follow-up questions once you introduce yourself. These questions are designed to gauge your sincerity and character on the part of the hiring team. Asking a series of follow-up questions that circle back to your opening statement will help you figure out if you were being truthful. Hence, be as genuine as possible in your interview introduction, and be ready to address these issues.
How to Introduce Yourself? Sample Answers
Example 1 : For Freshers
Hello, I'm Lisa. I just finished my bachelor's degree in English literature at XXX college, YYYYY University. I was the editor of XXX's annual publication and underwent fellowships at Wisdom and The Indian Express. I was delighted to hear of the availability of the Associate Editor position at your company, and I am confident that my skills and experience will make me an asset in this position.
Example 2 : For Freshers
Greetings, sir/madam, and I appreciate the chance to introduce yourself. My name is Ganesh, and I currently reside in Delhi with my parents. My academic background includes a Bachelor of Technology in Computer Science Engineering from VIT Vellore, where I focused on the areas of networking and security. I recently took the CCNA exam and am now waiting for my score to come back. I've had a deep interest in networking and computing ever since I was a kid, and I've always wanted to get hands-on experience with real-world switches. One of my favorite pastimes is table tennis, and I even served as the school sports captain. The school has been lauded for our table tennis success, as we have won numerous competitions against opponents from other schools and from other states.
Example 3 : For Experienced 
My name is Haritha, and I've been a digital advertising manager for the past three years. In addition to my current role as SEO Marketing Manager at Leverage Edu, I spent a year as a member of that team at Infinity Inc. As a content marketer, I am well-versed in both on-page and off-page SEO practices and technologies. Since I have the necessary knowledge and expertise, I think I would be a good fit for this position. I promise to do everything in my power to increase your online visibility and facilitate the growth of your audience across all of your chosen platforms.
Example 4 : For Experienced
I am Sharmila, and I am originally from Bangalore, Karnataka.  I decided to get a Bachelor of English Language and Education from XXXX University so that I could fulfill my dream of becoming a teacher. My professional career began during my senior year at AAAA Public School in Ashok Street, where I interned as an Assistant Teacher. I began my position as an Elementary Teacher at Nancy Public School in May of this year. Additionally, I earned a certificate in child pedagogy that has proved useful in my professional life. When asked about my passions and pastimes, I always mention my desire to dance. I can instantly let go of all my stress thanks to this therapeutic activity! Additionally, I enjoy reading more when I have leisure time.
Tips on How to Introduce Yourself in an Interview
Now that you know how to respond to the various introduction questions, here are some pointers for introducing yourself during the interview:
Let's talk about some broad strategies for introducing yourself well 
If you're going for an interview, make sure to wear a smile. The simple act of smiling may do wonders for your self-assurance and overall body language. You're a likable character, too.

An appropriate greeting might be as easy as saying "hi."

Make the appropriate person or the front desk aware of your arrival. You need to introduce yourself in the right manner.

Stay focused on the person you're speaking with and make frequent eye contact. Introducing oneself isn't merely a formality meant to learn more about the applicant.

Always tailor your introduction to the specific position you're interviewing for. It will boost your self-assurance and wow the interviewers. Your introduction will be more effective and more succinct if you take the time to prepare for it.

You should expect to be asked follow-up questions about your qualifications and experience relating to the job profile and your resume after the initial introduction.

After you've answered the interviewer's questions, you can express your enthusiasm for the role and the firm by asking some of your own.

Be well-versed in the material and ready to answer a range of inquiries.

Stop what you're doing and remind yourself to take a deep breath. It's acceptable to take a moment to gather your thoughts before responding to provide a thoughtful and well-informed response.

Saying "let me think about it" when you need time to process the question is preferable to stuttering, which can provide a bad impression.

While you're in the interview, make mental notes about what you could do better and where you could use more practice.
When the Interview Is Over
When the interview is over, rise up and offer a firm handshake to the interviewer while also expressing gratitude for the opportunity.
An upbeat closing statement, such as "It was a wonderful meeting you, have a nice day" can help you leave the interview on a good note. 
Hope the blog is useful for you and boosts your confidence in facing your interviewer with the best self-introduction.