Zoho Salary for Freshers
November 22, 2022
2023-09-28 17:10
Zoho Salary for Freshers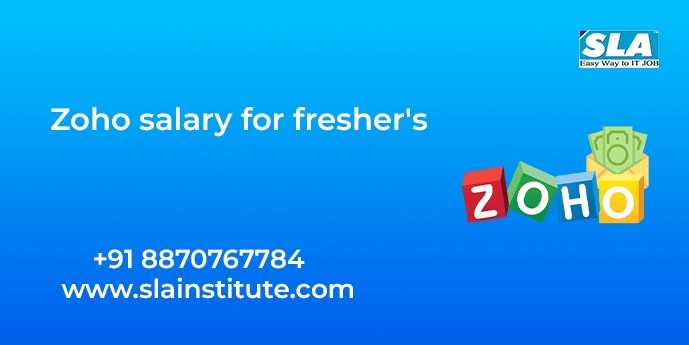 Zoho Salary for Freshers
Introduction
ZOHO is an IT firm with roots in India that develops applications for running businesses online. It's not just the creation of IT services, but also the provision of SaaS (software as a service) and IaaS (internet as a service) to other companies (SaaS). Sridhar Vembu and Tony Thomas established the business in 1996.
Beginning as AdventInc in 1996, the company changed its name to ZOHO in 2009. ZOHO Office Suites is the brand name for the company's suite of online office applications. Word Processors, Spreadsheets, Note Taking, Presentations, Database, Project Management Tools, Wiki, Customer Relationship Management Tools, Web Conferencing Tools, and Invoicing are just a few of the tools included in the ZOHO Office Suites.
ZOHO's headquarters can be found in the Indian city of Chennai. They have their US headquarters in Del Valle, Texas. The corporation maintains 12 international locations in nine different nations.
First, we'll look at the interview process and what it takes to join ZOHO as a fresher before we get into the salary details.
Motives to Associate with ZOHO
Weekdays are ideal for getting things done, and they also have regular opportunities to socialize and celebrate.
Since ZOHO teams are typically somewhat small, individual contributions can have a significant effect on the final output.
There is no required attire and no set hours of operation. When your 8 hours are up, you can log out whenever you choose.
ZOHO provides complimentary meals at all three meals. There are always refreshments, such as snacks and coffee, for your consumption.
Employees at ZOHO have access to a fantastic fitness center.
A cricket pitch, basketball court, and other sports facilities are also available.
Free taxi service is available late at night for those working the night shift.
ZOHO provides for all of its employees' requirements, therefore working there has several advantages.
The ZOHO Company Salary is high for all employees, and the ZOHO Entry-Level Salary is likewise competitive.
Let's move on to the ZOHO Interview Steps.
The standard procedure for the ZOHO Interview consists of five stages. As you go through the stages, the challenges become more intense. Come, let us examine the five rounds in depth.
These are the five rounds :
Written Round
Basic Programming
Advanced Programming
Technical HR
General HR
1. The Written Round
The Written round is the first phase. However, ZOHO changed this into an online test following the covid. Only Freshers and not experienced individuals may take the ZOHO Online test. MCQ questions are used in the framework of the online test. Depending on the level of difficulty, there may be more or fewer questions.
You won't have many questions if the questions are challenging. You will have the most questions if the questions are made simpler. The written round is divided into two parts. Programming in C is one, while general aptitude is another.
The below questions are covered in general aptitude.
Time
Work
Speed and distance
Percentage
Average
Profit and Loss
Ratios and Proportions
The following questions are included in C Programming Section
Flow charts
Recursions
Nested Loops
Pointers and more.
2. Programming Basics
Your knowledge of Basic programming is addressed in the second round. It's a one-on-one round. You will need to communicate with the interviewer using the ZOHO Meet App if it is conducted virtually. In ZOHO Meet, you must share your screen with the interviewer, and the queries will be provided over chat. If the interview is in person, a laptop will be made available to you.
Java, C++, Loops, Recursions, and Data Structures are among the topics covered in this round's questions.
3. Advanced Programming
The ZOHO interview procedure has reached the third stage. This round's sole question must be answered within 90 minutes as it assesses your ability to solve problems. It is wise to get ready for this round as well because a fresher may or may not be requested for it. You are required to create either a high-level or low-level system in this round. Examples include
Reservation software for trains
A system for managing the workforce
For seasoned professionals, designing challenging applications like Facebook, Netflix, Uber, etc. may also be requested.
4. Technical HR
Depending on how well you perform, this round will be held for you. There is a chance that this round won't be held for you if you performed exceptionally well. the questions in this round are about,
Identifying and resolving the issue.
Data Structures
Logical conundrum
Database Concepts
5. HR Round
Being in this round equates to almost being hired by the company. In this last round, they'll inquire generally about things like,
Describe yourself to me.
Your extracurricular pursuits
What motivates your desire to work for ZOHO?
What kind of setting do you prefer?
These rounds make up the ZOHO interview procedure.
Let's discuss ZOHO Freshers Salary presently. We will go over the job roles that are offered by ZOHO, their duties, and the ZOHO Pay Scale for the freshers in depth in this part.
Software Developer
A software developer is someone who develops applications and software for computers. He or she is also known as a programmer or coder.
The duties of a software developer include:
Interacting with clients to discuss needs
Tracking down and fixing software faults.
Once the systems are operational, take control of them.
Working together with technical designers
Include Software Components
Making efficient codes
Generating citations and reporting codes
Identifying operational relevance
Establishing quality control procedures
Collaborating with business and system analysts as well as UI/UX designers.
Software Developer Competencies
Being knowledgeable in programming languages such as C, C++, Java, and JavaScript.
Utilizing Object-Relational Mapping technologies like Hibernate and having expertise working with databases
Recognizing Agile Development techniques.
Aptitude for fixing issues.
Mathematical abilities.
Talented in time management and organization.
The capacity to learn new programming languages more quickly.
Good communication skills.
A keen sense of detail
Zoho Salary for Freshers as Software Developers starts from Rs. 2 lakhs up to Rs. 3 lakhs per year. Take our software training like Python Training in Chennai to master the Python Programming Language from its fundamentals to more advanced topics if you want to work as a software developer for ZOHO.
Join our Python Training in Chennai to master Python Programming language from professionals in the field who have extensive experience in the language. Once they advance to the next level in the organization and have acquired the necessary knowledge and abilities connected to the role, the ZOHO Compensation Plan for Freshers will grow.
Visual/Graphic Designer
The primary responsibility of graphic designers is to use eye-catching graphics to convey the thoughts, perspectives, and values of a firm. They combine art and technology by using design software to motivate users through written, visual, and performing arts.
The Responsibilities of Graphic Designers
Communicate with the customer to learn about the project's goals.
Provide clients with suggestions for methods of contacting the target market.
Frame up the intended design in your thoughts.
Create visuals that will convey the message.
Publish visual content for websites and logos.
Select the layout, color, images, and text style.
Deliver the clients the design.
Before posting designs, reevaluate them.
Competencies of Graphic Designers
Creative thinking
Communication capabilities
Typography Abilities
Use the artistic software of Adobe
Understanding of Interactive Media Coding Techniques
Building Brands
Presentation Techniques
Zoho Salary for Freshers joining as graphic designers can expect an annual salary ranging from Rs. 2 to 3 lakhs or Rs. 3 to 4 lakhs. Take our Graphic Design Course in Chennai at SLA Institute and explore the technique to qualify as a Graphic Designer in ZOHO. Comparatively speaking, the ZOHO Package in India seems to be quite comfortable.
Website Developer
For businesses to have an online presence, web developers build aesthetically pleasing websites. The websites must have user-friendly interfaces and functionalities and be simple to navigate.
There are several different classes of web developers, including Front-end, Back-end, Full-Stack Training in Chennai, and Webmasters. As it includes both front-end and back-end web developers, let's look at the Full Stack Web Developer.
Responsibilities of the full-stack developer
Developing front-end web architecture.
Building user interactions for web pages.
Constructing web applications for the back end.
Creating functional servers and databases.
Ensure that the applications are cross-platform and mobile-friendly.
Verify the applications' responsiveness.
Designing online features in collaboration with graphic designers.
Observing a project from beginning to end.
Developing APIs.
Meeting both technical and customer requirements.
Keeping up with the most recent technological advancements in web development
Competencies of Full Stack Developers
Understanding of front-end tools and languages, such as HTML, CSS, and JavaScript.
Understanding of back-end programming languages like Ruby, Perl, and PHP.
Capable of using database management systems like Oracle Database, MySQL, SQL Server, PostgreSQL, and MongoDB.
Comprehension of version control systems like Subversion, Git, and GitHub.
Expertise in Google Cloud, Heroku, AWS, and Microsoft Azure as web hosting platforms.
Zoho Salary for Freshers starting as Full-stack developers can expect an annual salary in the range of Rs. 2 to Rs. 3 lakhs. Attend the Full Stack Developer Course in Chennai at SLA to gain in-depth knowledge of the technology from professionals in the field if you want to work with ZOHO as a Full Stack Developer.
The ZOHO Corporation Salary largely depends on the professional's performance, and it rises as one gains knowledge, experience, and improvements in working.
Technical Writer
The task of the technical writer is to create intricate technical texts in a clear and understandable manner. They conduct research, gather information on the products of their company, and write the material down in a concise and understandable way.
Responsibilities of a Technical Writer
Writing, reviewing, reevaluating, and managing technical documents for software and system engineering, operation of the system, testing, and user manuals.
To create engaging and entertaining content, gather product information from a variety of sources.
Check the written work for plagiarism by proofreading it.
Punctually achieve the weekly goals.
Work together with the development team to comprehend the goods and services in detail.
If necessary, keep the data up-to-date.
Competencies of Technical Writers
Accurate Writing Techniques
Knowing the most recent, cutting-edge technologies as well as technologies in general.
Being Original and Creative
Being skilled in the language.
English vocabulary and grammar proficiency
Recognizing the offerings of the company.
Reading Abilities
Recognizing the target market.
Recognizing the business's extent.
Skills in editing and reviewing
Interacting with subject-matter specialists.
Zoho Salary for Freshers aspiring to be technical writers can typically expect an annual salary that falls between Rs. 2 and Rs. 3 lakhs. Attend our digital marketing course in Chennai and hone your writing abilities if you wish to work for ZOHO as a technical or content writer. One of the alluring aspects of joining ZOHO for freshmen is the ZOHO Freshers Salary.
Marketing Analyst
A marketing analyst is a contemporary professional who studies the market and emerging trends to assist companies in making wise judgments. They can then determine which things to produce and sell, to which clients, and at what rate.
The Responsibilities of a Marketing Analyst
Gather information based on customer demographics and market conditions.
Learn about the preferences, inclinations, needs, and desires of your customers.
Examine data-collection techniques such as polls, questionnaires, interviews, and surveys.
Implement techniques for thematically analyzing, understanding, and assessing textual data.
Examine quantitative data analysis techniques.
Create intelligible formats for data discoveries, such as tables, graphs, and data visualizations.
Join forces with internal teams to inform management and the client of the results.
Research report filing and presentation.
Marketing Analyst Competencies
Grasp at statistics.
Having a keen sense of detail
Knowledge about marketing tactics.
Capability to comprehend information properly.
Software expertise, such as using SPSS or Excel
Good communication skills both in writing and speaking.
Zoho Salary for Freshers as Marketing Analysts usually ranges between Rs. 2 and 3 lakhs or Rs. 3 and 4 lakhs annually. The ZOHO Freshers Salary is determined by a candidate's competence, expertise, insight, and proficiency in technology.
Conclusion
Students are drawn to the organization for a variety of reasons, one of which is the ZOHO Salary for Freshers. In addition, the business is one of the leading IT startups that has developed into an IT firm or corporation. We have now viewed the job openings in ZOHO for new hires. Additionally, the positions are open to applicants with one year or more of experience.
Please have a look at the additional job positions that ZOHO offers as well as the ZOHO Package for Freshers and learn more about how to utilize both of these resources.