The Benefits of AWS Training in Chennai: Advancing Your IT Career
June 22, 2023
2023-07-04 8:24
The Benefits of AWS Training in Chennai: Advancing Your IT Career
Choosing an AWS profession is unquestionably a wise decision. Today, a career in AWS is an excellent choice because of the lucrative salary and availability of job opportunities, including those for cloud architects, cloud developers, cloud engineers, cloud network engineers, and many more. Join us to explore the benefits of AWS Training in Chennai that help in advancing your IT career exponentially. 
Benefits of AWS Certification
The necessity to study cloud computing is growing as it dominates the computer industry. Today, the only thing that is certain is that it is never outdated to benefit from the cloud. As cloud technology becomes increasingly important to IT and organizations as a whole, demand for skilled workers in this area will only rise quickly. 
Forbes estimates that from $70 billion in 2015 to more than $160 billion in 2023, spending on public cloud services would increase at a compound annual growth rate of 36%.
Fastest Growing Public Cloud in the Globe
Around 180,000 developers were using the platform by the time AWS was formally released in 2006 and debuted. The company's annual revenue peaked in 2015 at $6 billion USD; since then, it has doubled and is still expanding rapidly. The team at AWS has not slowed down, enjoying a 9-year head start on similar competitors. Every quarter, Amazon Web Services accelerates its expansion. Third-quarter 2022 growth for AWS was 45%; this grew to 45% in the fourth quarter; and finally, 52% in the first quarter of 2023. 
Amazon EMR (Elastic MapReduce), a tool for data processing, Amazon CloudWatch, a network monitoring service, and AWS Lambda, a serverless product, are the three AWS products that are growing at the fastest rates among those used by customers. Amazon EMR is growing at a compound annual growth rate of 24%, CloudWatch at a rate of 23%, and AWS Lambda is growing at an annual rate of 18%. Given AWS' enormous lead, if the current patterns continue, we might see a striking acceleration in AWS growth in the future.
AWS is the Most In-Demand Skills Since 2015
The crucial task of the hour is to understand which direction the wind is blowing and then maintain that direction when it changes. And as of today, it appears that the wind is blowing into the AWS cloud. Google trends show that there will soon be a severe scarcity of AWS-related skills among organizations. People in the workforce who want a lucrative job should head in this way. With over 350,000 experts needed to fill job responsibilities in the cloud, there is undoubtedly a sizable potential for those who can demonstrate their talents. AWS skill is among the top skills that companies are looking for.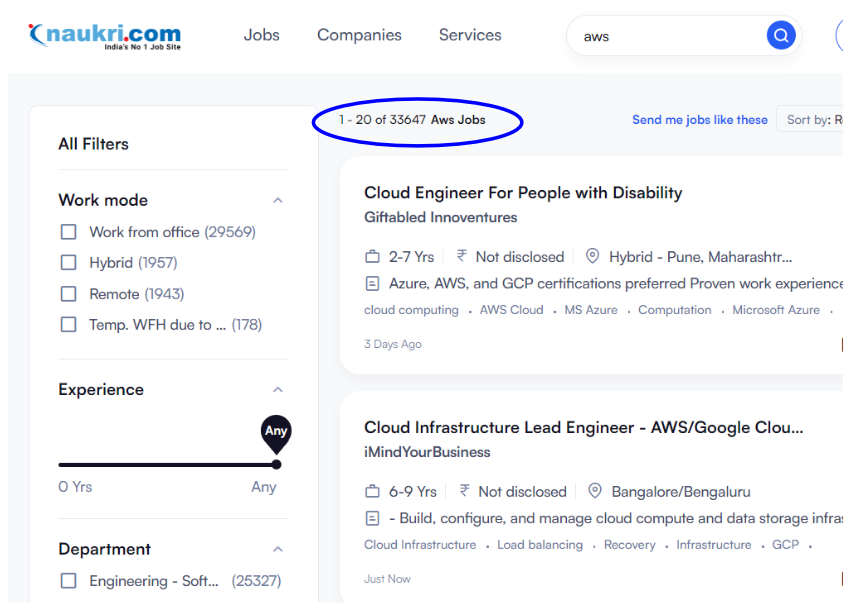 Regardless of expertise level, the need for AWS personnel has increased substantially, according to a recent Naukri report. Jobs go vacant and salaries for trained and certified AWS specialists skyrocket due to a lack of personnel with the knowledge to operate with AWS cloud services. It is undeniably true that expertise in cloud computing, particularly in AWS cloud computing, is and will remain in high demand. In the upcoming years, demand for AWS skills and certifications will increase due in large part to AWS's dominance as a public cloud platform.
Improved Cloud Migration to AWS
Not only are small businesses moving to the cloud at a rapid rate, but so are commercial corporations. In 2015, 77% of businesses relied on traditional IT infrastructure, according to a survey from McKinsey's Silicon Valley group. However, as large businesses move to cloud-based infrastructure, that percentage is predicted to fall to 58% in 2024. Numerous difficulties and obstacles must be overcome by businesses moving their services and apps to the cloud. Migration is not one of the automatic features offered by cloud computing platforms like AWS, Azure, and Google. This indicates that businesses must rely on providers to deliver personalized, qualified services. 
There is a rising need for cloud experts who can manage migration initiatives in a safe and orderly way. This needs experts with an in-depth understanding of the chosen cloud platform, such as AWS. Your ability to transition from an existing on-premises application to the AWS cloud will be fully equipped after you become a certified AWS solutions architect.
AWS Careers with High Salaries
AWS Certified Solutions Architects or Associate professionals get an annual salary of $121,292. In high-end locations like Austin, San Francisco, Washington, or Boston, earnings for AWS abilities are 25% higher than average. PayScale claims that compared to architect employment, non-architect-related AWS cloud jobs pay considerably less. The highest-paying occupations that can assist professionals in earning the most money from their cloud work include
AWS Enterprise Cloud Architect: $138,051

AWS Senior Cloud Solutions Architect: $132,092
Affordable Cost and Free Access to Learn AWS
New professionals can open an AWS account and use the free tier offered by AWS for a year in order to practice using the technology firsthand. Amazon RDS, Elastic load balancing, EC2, and S3 are a few of the well-known AWS free-tier services. Each service does have a usage cap that must be met in order to avoid being charged. For those who wish to start learning AWS, this is sufficient. However, AWS offers a flexible pay-per-use model, and beginners can use these services in accordance with the utilization of hours and memory if necessary.
Why is AWS Training Important?
The fact that AWS certifications offer outstanding recognition for qualified individuals is one of the main benefits of pursuing them. Invitations to local Appreciation Receptions are available if you have an AWS certification. Even while the work required to earn any of the AWS certifications is not trivial, the exceptional recognition on offer makes the effort worthwhile.
The type of compensation or rate you command can be greatly increased by having an AWS certification in addition to looking excellent on your resume. According to our Careers and Hiring Guide, after earning their certification, 73% of AWS workers experienced a salary boost of an average of 27%.
The AWS training you receive as you work towards certification is priceless; you pick up new knowledge, get to know the platform thoroughly and out and learn best practices. This increases your productivity and makes you a more valuable member of your team, both of which will likely have an impact on your AWS Salary.
The Solutions Architect – Professional qualification is most likely to raise a professional's earning potential, according to our Careers and Hiring Guide, while different certifications are likely to result in varied rates of pay increase:
AWS Certified Solutions Architect – Professional (46%)

AWS Certified Security – Specialty (38%)

AWS Certified DevOps Engineer – Professional (34%)

AWS Certified Advanced Networking – Specialty (29%)

AWS Certified Solutions Architect – Associate (28%)

AWS Certified Data Analytics – Specialty (23%)

AWS Certified Database – Specialty (21%)

AWS Certified Machine Learning – Specialty (21%)

AWS Certified SysOps Administrator – Associate (19%)

AWS Certified Developer – Associate (16%)
Adapting to the AWS Technology
You can demonstrate your dedication to the sector and the norms that serve as its pillars by obtaining AWS Certification Training. By no means does experience outweigh AWS training alone; if you're a hiring manager, the two must be carefully and equally taken into account when you make that crucial offer.
Considering this, hiring managers can quickly and efficiently assess your technical expertise and core competencies by looking at your credentials. It's a marker that lets them know you've mastered a particular degree of AWS expertise, which is a benefit that 40% of survey respondents thought they had acquired.
The tech industry needs more personnel as it shifts from an on-premise operation to one that is more cloud-focused. Industry operations change when moving from on-premises to the cloud, and we need people on the ground to make that transformation.
Anyone interested in AWS can learn about the most recent services whenever and wherever is most convenient with the help of SLA's online, on-demand AWS classes in Chennai. There are many choices available for brushing up on AWS expertise at your own speed and convenience.
This might be a great option if you're looking for something a little more formal. Get either in-person from knowledgeable teachers who give your team instruction in a practical setting.
Obtaining AWS certifications is worthwhile whether you're just out of college, or a seasoned professional. You'll have a better chance of landing your ideal career, be able to demand more salary and obtain the industry-recognized AWS certification that will distinguish you as a subject-matter authority.
Career Benefits of Getting AWS Certifications
The AWS certificates might only be valid for a short time, in which case candidates might need to retake the test to renew their credentials. This raises the question, "Is it worthwhile to pursue the AWS Certification?" Yes, that is the answer to your query. how long it takes to fully understand AWS and meet certification requirements. As a result, AWS certificates are the most coveted and admired certifications in the cloud computing sector.
Let's now explore in detail the career benefits of getting AWS Certifications:
With Digital Badges, you can demonstrate your AWS expertise
You can now display your AWS Certification success on your social media profiles and email signatures by using digital badges. You can gain immediate admission to exclusive AWS-sponsored certification events with the use of these digital badges. Additionally, you can gain privileged access to specific AWS Summit events and AWS Certification Lounges at "AWS re Invent" with the use of these digital badges.
The fact that AWS certifications offer outstanding recognition for qualified individuals is one of the main benefits of pursuing them. Invitations to local Appreciation Receptions are available if you have an AWS certification. Even while the work required to earn any of the AWS certifications is not trivial, the exceptional recognition on offer makes the effort worthwhile.
To demonstrate their abilities, data professionals can pursue the AWS Data Analytics certification, and machine learning professionals can pursue the AWS Machine Learning certification.
Gives Flexible Careers
The AWS qualifications offer an obvious advantage over rivals in this cutthroat market for cloud jobs. If you want job flexibility in the field of cloud computing, you must pursue AWS credentials. AWS is expected to grow even more influential in the sector, with big growth potential and a one-third market share in cloud computing. The evidence points to a high need for AWS-certified professionals.
Candidates who pursue AWS certifications receive a wide range of skills training to ensure that they are qualified for a variety of positions in this sector. Examples include the management, development, and implementation of Cloud services across several verticals, which are abilities that applicants for these certifications are equipped with. 
Business sectors that require cloud professionals include retail, finance, government, insurance, healthcare, and banking. They can fill positions everywhere in the world because there is such a great need for AWS experts in the majority of countries. In the US, Asia, Europe, and many other nations throughout the world, there is a significant need for AWS experts.
Easy to Learn
When compared to other IT certifications, AWS certifications are less difficult and time-consuming. To prepare for an appropriate AWS certification, you can effectively organize your time. You'll discover how simple it is to learn after you carefully adhere to the learning route and put in the necessary work.
Assured Career Enhancement
AWS certifications aid individuals in getting better recognition and advancing their careers. During the hiring process, it is advantageous to demonstrate that you have completed any of the AWS certifications. AWS-certified professionals' profiles stand out from those who are not. AWS-certified candidates are sought after by many cloud computing companies. Simply put, having an AWS certification shows how dedicated you are to the cloud sector. Your career will develop significantly as a result of the time and effort spent obtaining an AWS certification.
High Paying Job Roles
The AWS credentials are in the first place when it comes to the highest IT qualifications capable of offering the finest compensation. AWS professionals make an average of $113,932 annually. A senior software engineer with an AWS certification makes about $67 per hour in the US, while a cloud solutions specialist with an AWS certification makes about $73 per hour.
Independent of the nation you work in, respectable remuneration packages are guaranteed due to the growing need for cloud specialists. Even though you are a novice, you can validate your AWS expertise by passing the AWS Certified Cloud Practitioner exam. For those who are just starting, it is advised that they sign up for the free AWS cloud practitioner practice test and take a few practice questions that follow the same format as the real thing.
Individualized training programs can be developed by organizations
AWS platform requirements are unique to each organization. Employee training must therefore support organizational goals. Professionals with AWS certifications are in high demand right now to assist businesses in developing and implementing training initiatives. Therefore, over time, these qualified workers are turning into a key resource for cloud computing companies.
Affordable Solutions are Offered
The AWS pricing model does not need a significant financial commitment. Companies can choose to pay only for the services they use, and the base prices are comparably modest. Users can save a tonne of money by using this method. AWS depends on the needs of a business to determine its computing and storage capacity. Organizational owners also don't need to worry about making any investments or meeting minimum spending requirements.
Flexible AWS Architecture
Users are given the option by the AWS framework to select the programming model or development platform that will give them the greatest benefit. The resulting flexibility enables companies to emphasize innovations. The AWS-certified expert can select to work with databases, operating systems, architectures, and programming languages they are most familiar with due to the adaptable AWS structure. 
Scalable AWS Solutions
The world's largest cloud infrastructure provided by AWS enables creativity in certified experts. Scaling AWS services is simple depending on the requirements. In accordance with the needs, options are also accessible to add and remove resources. The specialists are consequently more careful to monitor project expenditures as a result. Lack of experience is frequently a problem for organizations wanting to implement cloud technologies. Now that AWS certification has been realized, it's important.
Stay Current with AWS Trend
The forthcoming developments in the job market for cloud computing are better prepared for by applicants with AWS certifications. Each certification's learning route equips candidates with the necessary skills and teaches them how to keep up with the most recent developments in the field. The employer can determine if you are knowledgeable about the relevant trends and skilled at the specific work function with the help of any of these certificates.
Some of the most demanding skills in the field of cloud computing are acquired by an AWS certified expert. Enrolling in our AWS Training and Certification Programs in Chennai at SLA can help you become ready for the right certification. Don't forget that these certifications also serve as an endorsement of your knowledge from one of the most reputable Cloud computing organizations in the world.